COMMISSIONERATE DAY PARADE
Delhi Police, today held its Commissionerate Day Ceremonial Parade at Parade Ground,New Police Lines, Kingsway camp, Delhi. Shri Vinai Kumar Saxena, Hon'ble LG Delhi took the salute and inspected the parade as the Chief Guest.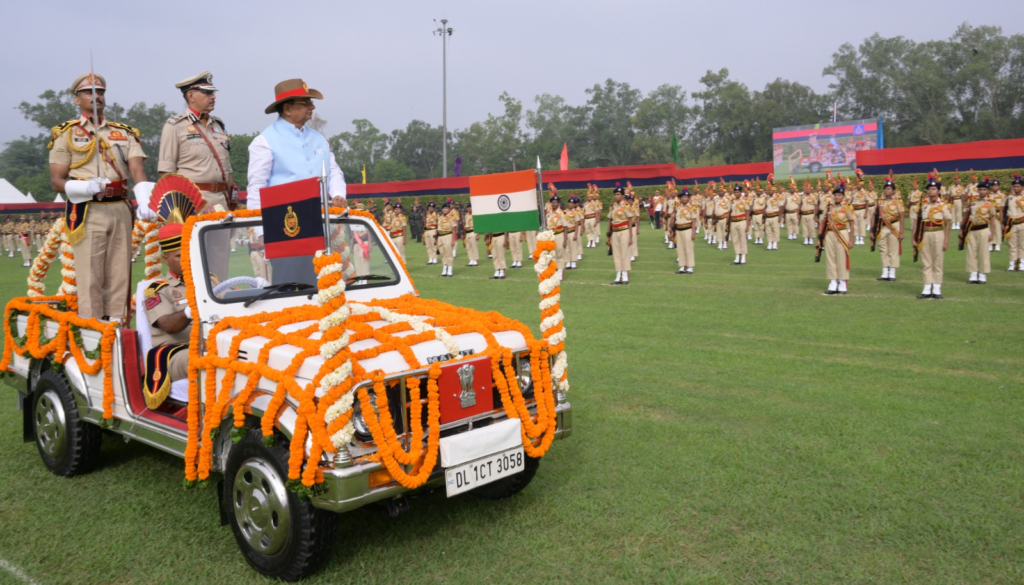 Founded in 1861 after the adoption of the Indian Police Act, Delhi Police remained a part of the Punjab Police until 1947. In 1978, the Delhi Police Act was passed and the Commissionerate System was introduced with effect from 1st July 1978. Delhi Police as part of its platinum jubilee celebrations initiated the Commissionerate Day Parade to be held every year on 1st of July, starting from the year – 2022, wherein the Hon'ble LG of Delhi would take the salute by virtue of being the Administrator of Delhi.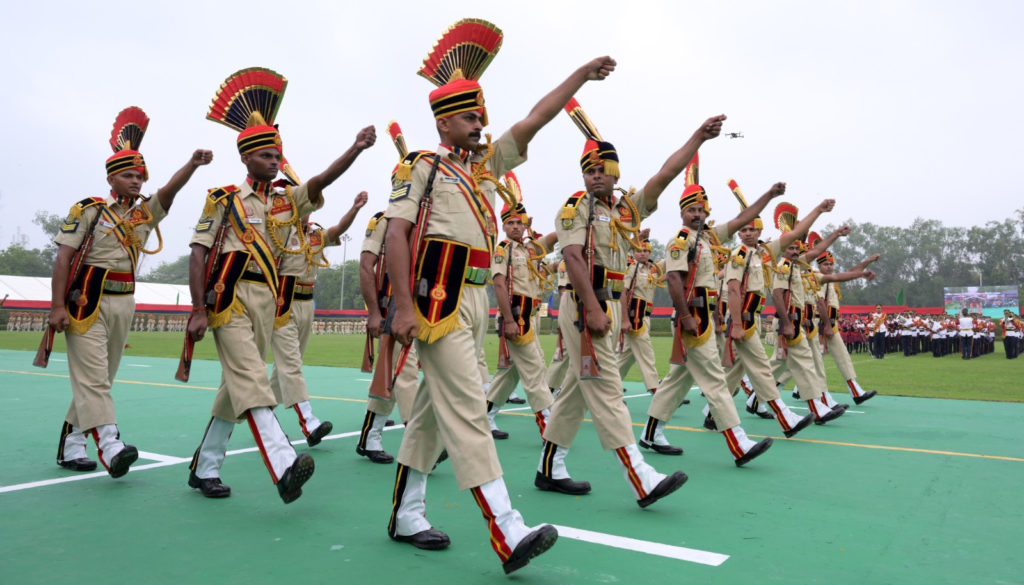 The Chief Guest Shri Vinai Kumar Saxena congratulated all and especially those who took part in today's parade and said, this parade symbolizes that discipline and dedication which makes Delhi Police distinct. The Chief Guest offered heartfelt tributes to the police personnel who lost their lives while performing duties during Covid times and lauded the works done by the force during that period. To change with the time is need of the hour but Delhi Police has remained ahead of times, he said and further added that he felt pride in telling that Delhi Police has adopted various new technologies and has achieved excellence in smart policing system. The Chief Guest also commended Delhi Police for the recent successful attempts of arresting terrorists, smugglers, drug peddlers outside of Delhi and also praised the PFWS and its welfare schemes benefitting police families. The organising of G 20 Summit in September is a matter of pride for the country. Delhi Police has a vast experience of successfully organising international events and given the scale of the event, this time Delhi Police has a big role to play, he added.
In his welcome address Shri Sanjay Arora, Commissioner of Police, Delhi welcomed the Chief Guest on the occasion and also welcomed the Special Guests, Former Commissioners, Retired Officers and staff, Senior Citizens and all Delhi Police personnel present. The CP Delhi congratulated for organising the fabulous parade despite inclement weather and paucity of time and said that the ceremonial parades are not only symbolic but there lies a pious devotion and vow behind these events. CP Delhi dedicated today's parade to the special responsibility which has been conferred upon Delhi Police by the Indian Constitution and Parliament in the form of Commissionerate system. The CP Delhi thanked Hon'ble LG Delhi for giving his approval for institutionalising 'Aahat Veer Prashasti Patra'Patra' (आहत वीर प्रशस्ति पत्र -This award has been institutionalized to honour those Police personnel who get injured or wounded while discharging their duties during riots, protests, nabbing criminals).
The parade consisted of 18 platoons under 6 companies of various units and districts of Delhi Police. Parade Commander, Sh. Aditya Kumar, ACP led the march past comprising platoons of Central Range, Northern Range, Eastern Range, Southern Range, Western Range, New Delhi Range, Delhi Armed Police, Communication Unit, female SWAT Commandos, Delhi Police Security Battalion and Traffic unit.
The Chief Guest Hon'ble LG Delhi presented medals to 23 police personnel for different categories. Sh. Pramod Singh Kushwah, Insp Rajeev Shrivastava, SI Mohan Chand, SI Mohd. Akmal Khan and SI Satish Kumar were conferred Home Minister's Medal for Special Operation-2022. Newly institutionalised 'Ahat Veer Prashasti Patra' were given to SI Raj Kumar, SI Robin, SI Pappu Lal Meena, SI Satender Sharma, ASI Subhash Chand, ASI Vikram Singh, HC Rinku Kumar, HC Vinod Kumar, HC Praveen, HC Amit Kumar, HC Sachin Kumar, Ct. Rakesh Kumar and Ct. Sunil Kumar. The Chief Guest also distributed awards for the Delhi Police best residential colony. The awards were received by ASI Ombir Singh for Police Colony Vikaspuri (Big Colony Category), Insp. Birender Singh for Police Colony Sector 16 Dwarka (Medium Colony Cetegory) and SI Krishan Kumar for Police Colony Vasant Kunj (Small Colony Category). The Best Police Station in cleanliness award was bagged by PS Krishna Nagar, SHO Insp. Ranjish Kumar received the trophy while PS Model Town came second and the SHO Insp Lalit Kumar received the trophy from the Chief Guest.
Former Commissioners of Police, Delhi, retired as well as serving police officers and other dignitaries graced the occasion with their presence.